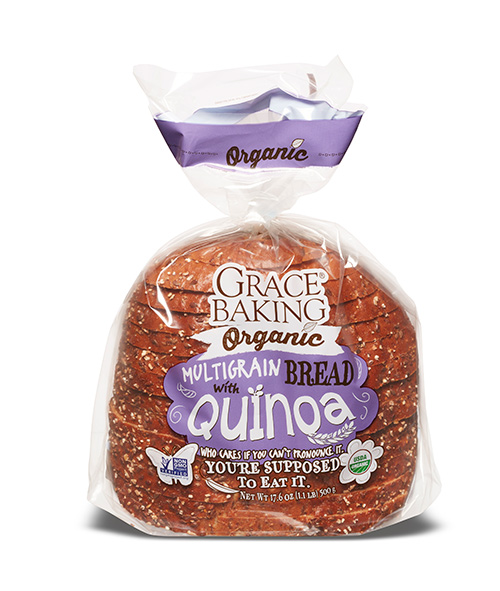 Who Cares If You Can't Pronounce It. You're Supposed To Eat It.
Yup. Kee-no-ahh… it actually sounds like it's good for you.  And if it didn't taste so darned good it'd just be another weirdly named food you've never tried, let alone can pronounce.  Come to think of it, it also sounds like a card game your grandparents might have played…


Ingredients
ORGANIC WHEAT FLOUR, WATER, ORGANIC GRAIN BLEND (ORGANIC BROWN FLAX SEEDS, ORGANIC RYE MEAL, ORGANIC BARLEY FLAKES, ORGANIC CRACKED WHEAT, ORGANIC CRACKED RED FIFE), ORGANIC QUINOA, ORGANIC WHEAT GLUTEN, ORGANIC BROWN SUGAR, CONTAINS 2% OR LESS OF EACH OF: SEA SALT, ORGANIC FERMENTED RYE FLOUR, ORGANIC CANOLA OIL, ORGANIC CULTURED WHEAT STARCH, YEAST, ORGANIC VINEGAR, ORGANIC SOYBEAN LECITHIN, ORGANIC TURMERIC, ORGANIC MALTED BARLEY FLOUR, ORGANIC CORN MEAL, DOUGH CONDITIONERS (ASCORBIC ACID, ENZYMES).

Contains
WHEAT AND SOYBEAN. MAY CONTAIN EGGS.

test
CHECK YOUR PACKAGING LABEL FOR THE MOST UP TO DATE NUTRITIONAL INFORMATION.