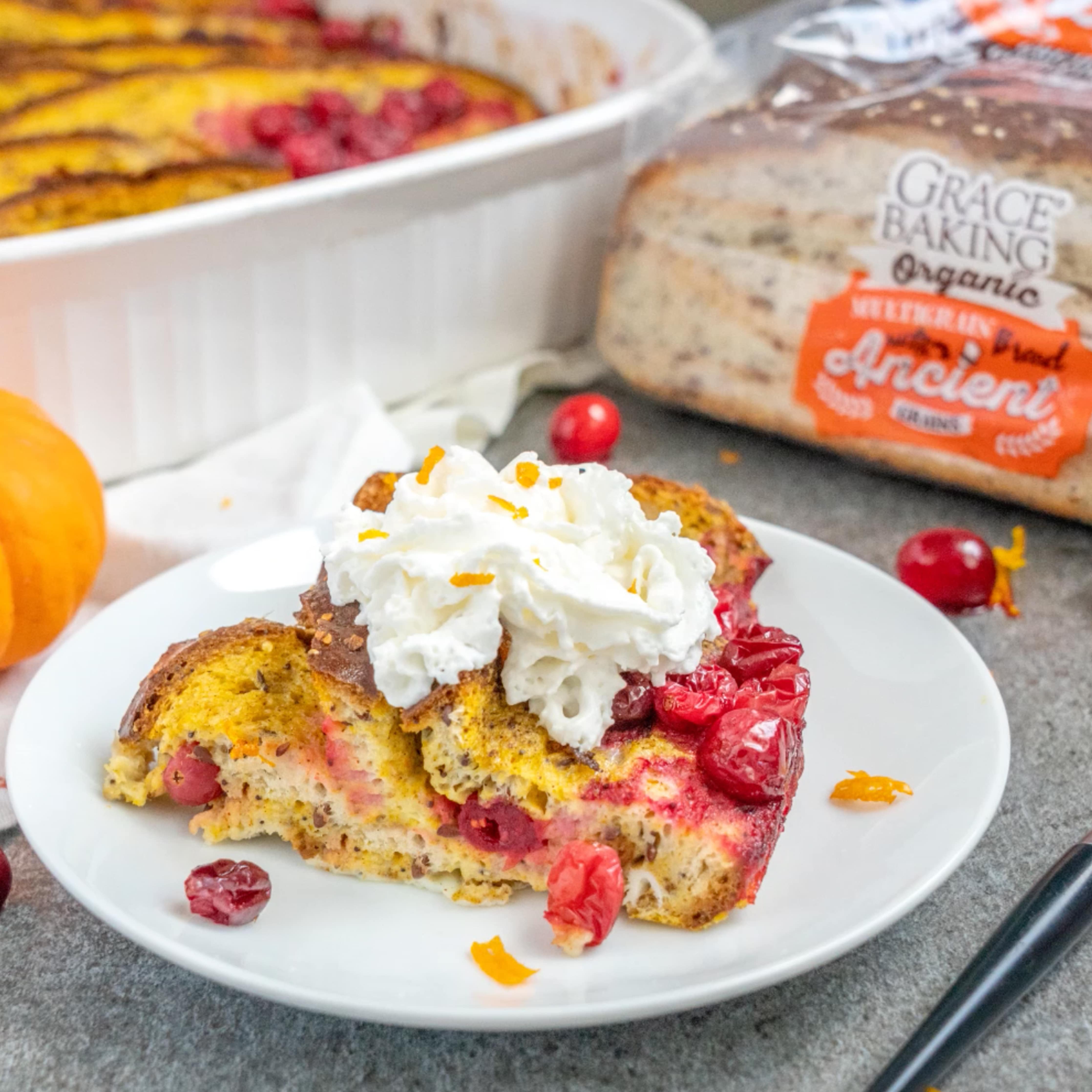 Baked Cran-Pumpkin French Toast
French literature (cookbooks or otherwise) do they mention "French Toast". As a matter of fact, the French refer to it as "lost bread" which somewhat puzzling. You can count on us to confuse things even more because our irresistible take on this questionably Gaulish goodie includes our Grace Baking Organic Multigrain with Ancient Grains. What lifts our Baked Cran-Pumpkin French Toast to new heights of toast tastiness is our clever use of surprising ingredients. No, not eggplant - been there, not going back. No, we mean pumpkin purée, spices and a luscious whipped cream topping. We recommend against eating it while commuting, particularly on public transit. Rather, take your sweet time and enjoy it at home, at a self-indulgent pace. So, dare to be deliciously different and dive into this delectable breakfast dessert...
Ingredients
1 loaf Grace® Baking Organic Multigrain with Ancient Grains
8 eggs
1 cup milk
2 tsp. pumpkin pie spice
2 cups fresh cranberries
2 tbsp. orange zest, + more for garnish
Whipped cream, to garnish
Directions
Pre-heat oven to 350˚F and grease an 8x10 pan.
In a medium bowl, whisk the eggs, milk, pumpkin purée and pumpkin pie spice. Dip each slice of bread into the egg mixture, and place in the prepared baking dish, overlapping slices to fill dish. Drizzle remaining egg mixture over slices, then top with cranberries and orange zest. Bake uncovered for 40 minutes, or until set. Let cool slightly before garnishing with whipped cream and remaining orange zest.