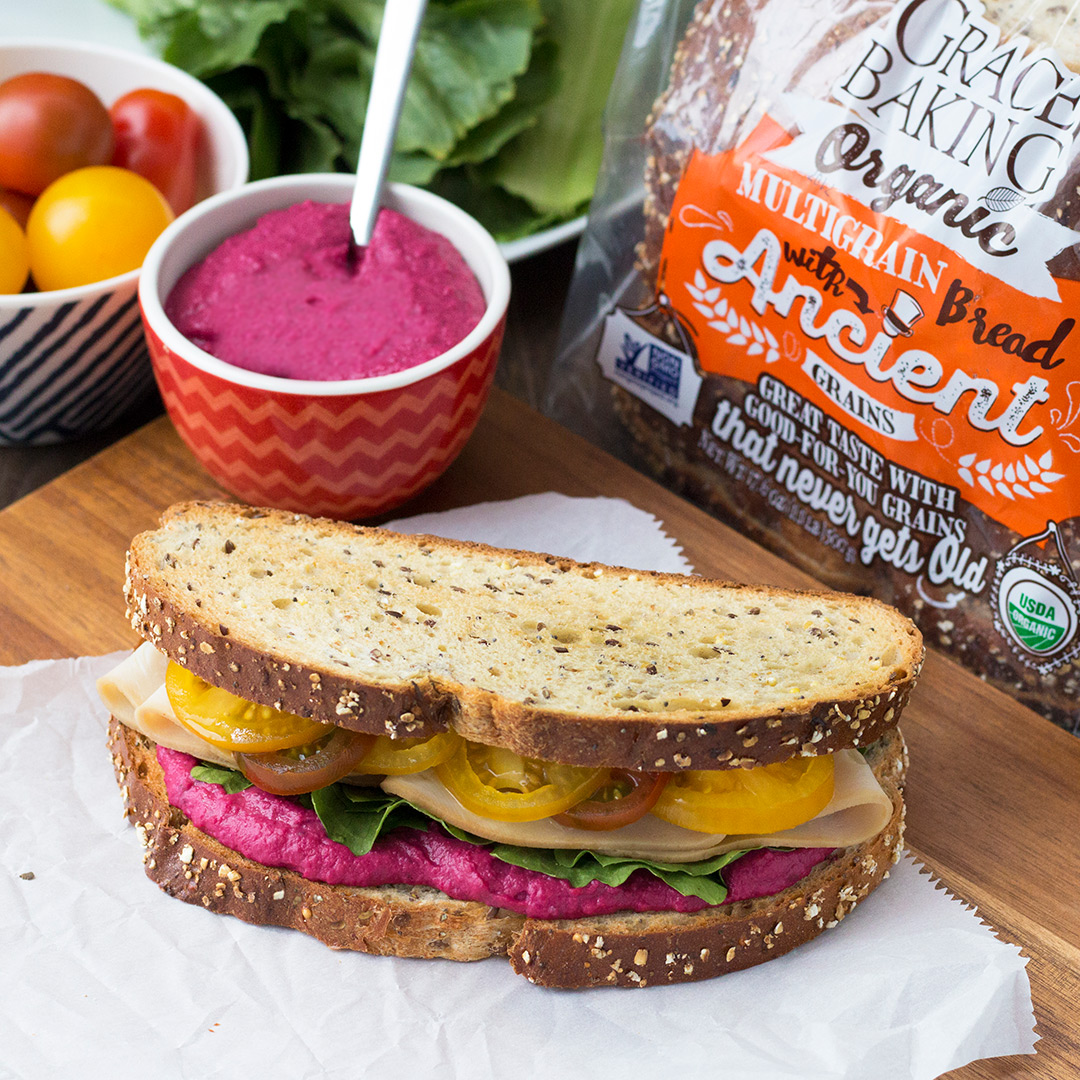 Beeter Than the Rest Turkey Sammich
Before we start let's get one thing straight… Our Organic Multigrain with Ancient Grains doesn't actually use ancient ingredients. By "ancient grains" we mean "grains like your great-great-great-great grandma once used". They're brand new, but more like the superior grains of yesteryear. OK, we've avoided our supremely delicious sandwich's silly name long enough… Beeter Than The Rest Turkey Sammich. Get it, it's got beets, so it's "beeter", and calling it a "sammich" gives it unmistakable "comfort food" appeal, above & beyond a mere sandwich. Yeah… we've got marketing whizzes here like you wouldn't believe. Thankfully our bakers are much better at their job. ;-)
Ingredients
2 slices Grace® Baking Organic %product%, toasted Beet hummus (recipe follows) 2 leaves butter lettuce 4 slices turkey 2 small heirloom tomatoes, sliced
Beet Hummus:
1/2 lb. beets (about 4 medium sized beets), scrubbed clean, cooked, peeled and cubed 2 tbsp. tahini paste 5 tbsp. lemon juice 1 small clove garlic, chopped 1 tbsp. ground cumin 1 tbsp. lemon zest (zest from approx. 2 lemons) 1 pinch sea salt Freshly ground pepper, to taste
Directions
Prepare beet hummus. Combine beets, tahini paste, lemon juice, garlic, cumin, lemon zest, salt and pepper in food processor and pulse until smooth.
Spread one tablespoon of hummus on one toast slice. Top with butter lettuce leaves, turkey, sliced tomatoes and second toast slice. Enjoy!