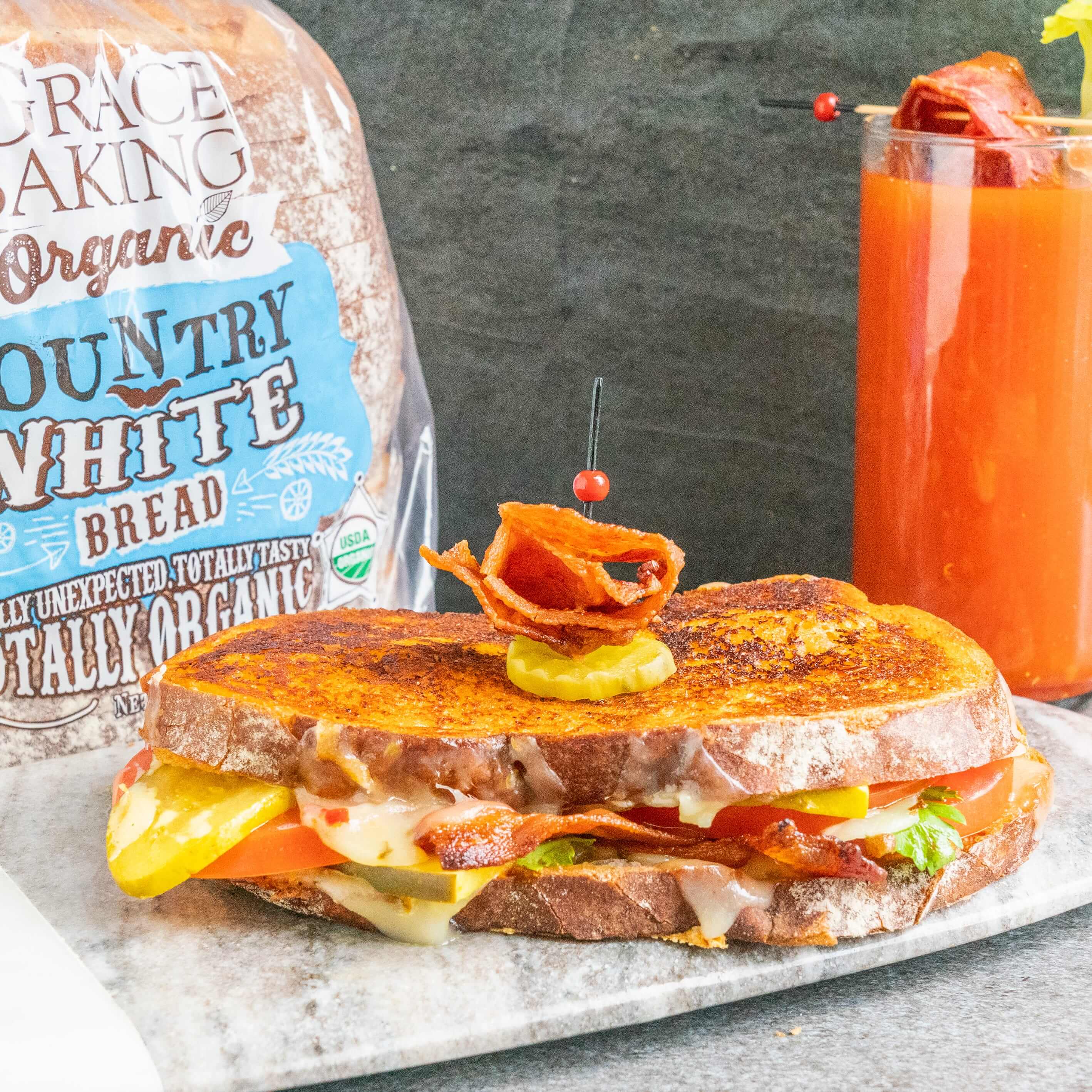 Bloody Mary Grilled Cheese
Our Grace Baking Organic Country White Bread reigns supreme as the centerpiece of this regally delicious Bloody Mary Grilled Cheese. The lowly grilled cheese more than makes up for its simplicity with big taste. Our version rides the cutting edge of the bread knife by adding irresistible bacon, 2 types of cheese, tomato, and the mystery ingredient: Bloody Mary flavored butter... You've never had a grilled cheese sandwich this original, or this pumped up in taste & tang.  Royally delicious.
Ingredients
2 slices Grace® Baking Organic %product% Bread 2 slices Pepper Jack cheese 3 slices cooked bacon 2 slices tomato 2 pickle spear slices 3-4 celery leaves 2 slices White Cheddar cheese Bloody Mary Compound Butter (recipe follows)
Bloody Mary Compound Butter Ingredients:
1½ cups crushed tomatoes 2 tbsp. + 2 tsp. prepared horseradish 1 tbsp. Tabasco 1 tbsp. Worcestershire sauce 1 tbsp. vodka 2 tsp. celery leaves 1½ tsp. pepper 1 lb. unsalted butter, room temperature
Directions
Make Bloody Mary Compound Butter. Add tomatoes, horseradish, Tabasco, Worcestershire, vodka, celery leaves and pepper to blender and purée. Fold 1 cup of the mixture into the butter and mix until well combined. Chill until ready to use.
Make sandwich: Spread Bloody Mary Compound Butter on one side of each slice of bread. Lay one slice, butter side down, on cutting board and layer on Pepper Jack, bacon, tomato, pickles, celery leaves, White Cheddar and second slice of bread, butter side up.
Cook sandwich in skillet over medium heat until bread is golden brown and cheese begins to melt. Flip and continue cooking until second side is golden brown and cheese has fully melted.