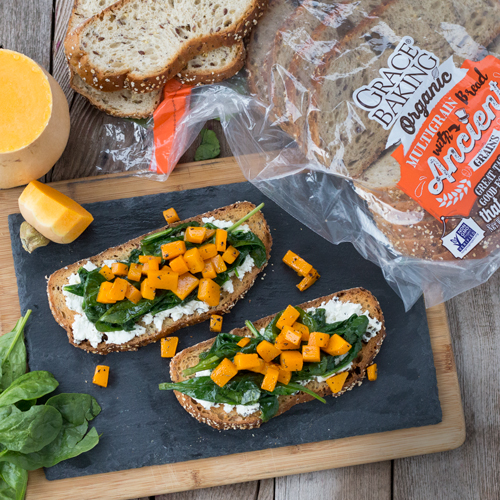 Butternut, Goat Cheese & Spinach Toast
Butternut squash on toast. Relax… people felt the same way about peanut butter & chocolate, Alaska joining the union, and bigfoot. Of course every bigfoot sighting is the result of hunger-induced hallucination, coincidentally only curable by eating our tasty tidbits of Multigrain Bread with Ancient Grains toast slathered in butternut squash. Candies, constitution and creatures notwithstanding, isn't it time your butternut squash became an object of desire?
Categories:
Appetizer
Lunch
Vegetarian
Ingredients
2 slices Grace® Baking Organic Multigrain with Ancient Grains, toasted
1 cup butternut squash, peeled and cut into ½ inch cubes
3 tsp. olive oil, divided
1 pinch sage
2 cups baby spinach
2 tbsp. herbed Goat cheese
Directions
Preheat oven to 400°F. Arrange cubed butternut squash on a small baking pan. Toss with 2 teaspoons olive oil and sage, and bake for about 20 minutes, stirring every 5 minutes.
In a medium skillet over medium-high heat, heat remaining teaspoon of oil. Add spinach and cook until wilted.
Spread Goat cheese on both slices of toasted bread. Top each with spinach and roasted squash.