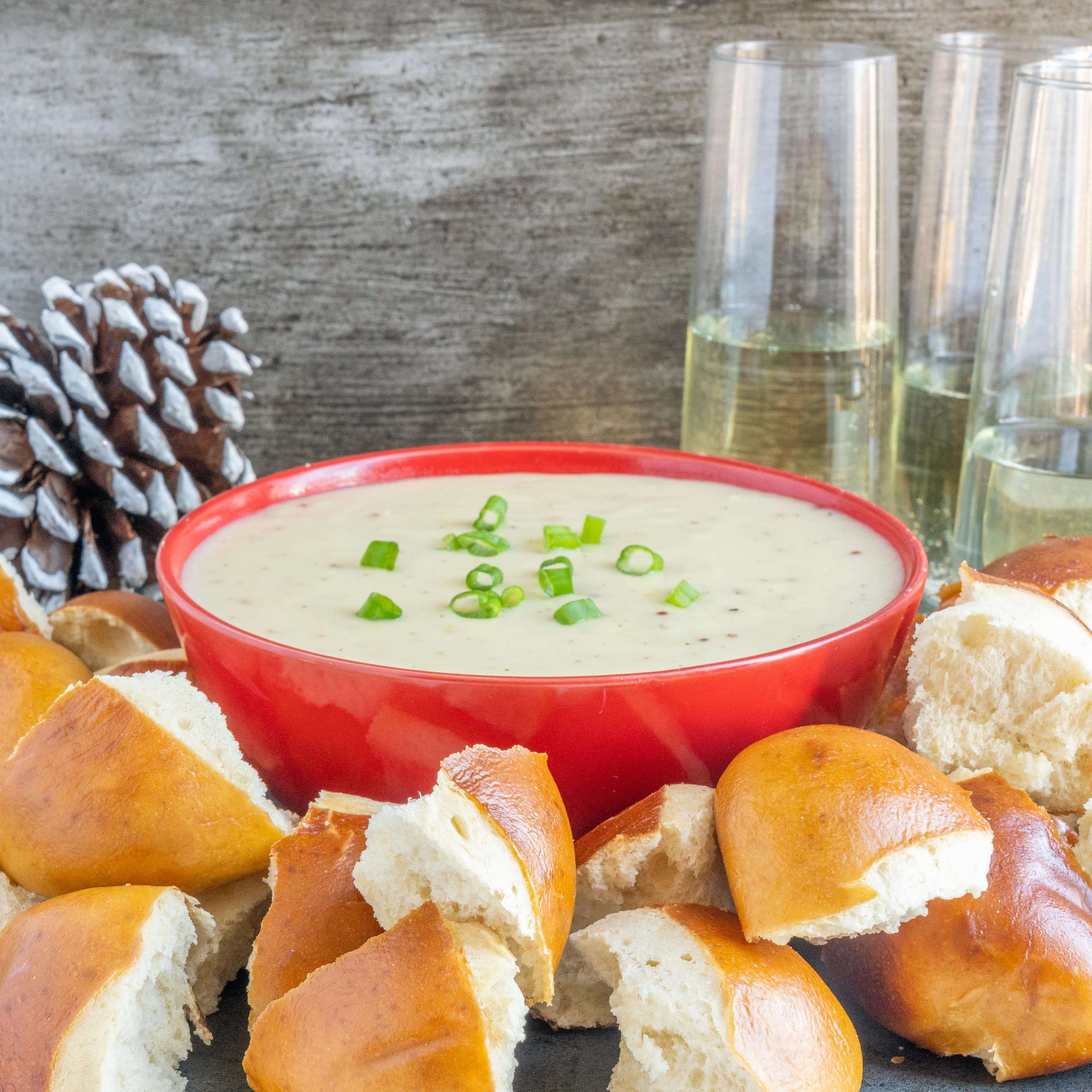 Champagne Cheese Fondue
At Grace Baking we always come through for the holidays. Naturally everything we make is worthy of celebration – but when you choose Grace Baking Mini Pretzel Rolls as the primary dipper for our Champagne Cheese Fondue, you're practically assured to up your reputation as a kitchen connoisseur by at least 50%. Recent studies by our chefs have shown conclusively that the "smile potential" of guests reveling in a big bubbly pot of champagne cheese fondue rises with each bite.  There's just something comforting about a cheese fondue, it's less about being formal at the table than it is being at home with those around you at the table. And what hasn't been said about the amazing power of cheese, it's half the reason we got into the bread business. Conversely, cheese could not find a better place to be served than on anything we bake up.  Happy holidays!
Ingredients
1 package Grace® Baking Pretzel Mini Rolls
4 tbsp. butter
¼ cup shallots, minced
3 tbsp. flour
2 tsp. grainy mustard
1½ cups champagne, dry, brut, room temperature
1 cup whole milk
1½ cups Sharp White Cheddar, shredded
1½ cups Mozzarella, shredded
1 tsp. Tabasco
Directions
In a medium saucepan, over medium-high heat, melt the butter. Add the shallots and sauté for 3 minutes, or until they're tender. Add the flour and mustard, whisking frequently until bubbly and thick, about 3 minutes. Slowly add the champagne a little at a time, continuing to whisk. Slowly add the milk, and whisk until the sauce thickens slightly (approximately 5 minutes). Add the cheeses, and whisk until smooth. Season with salt, pepper and Tabasco. Transfer the cheese fondue to a serving bowl, and serve hot with torn-up pieces of pretzel rolls for dipping.