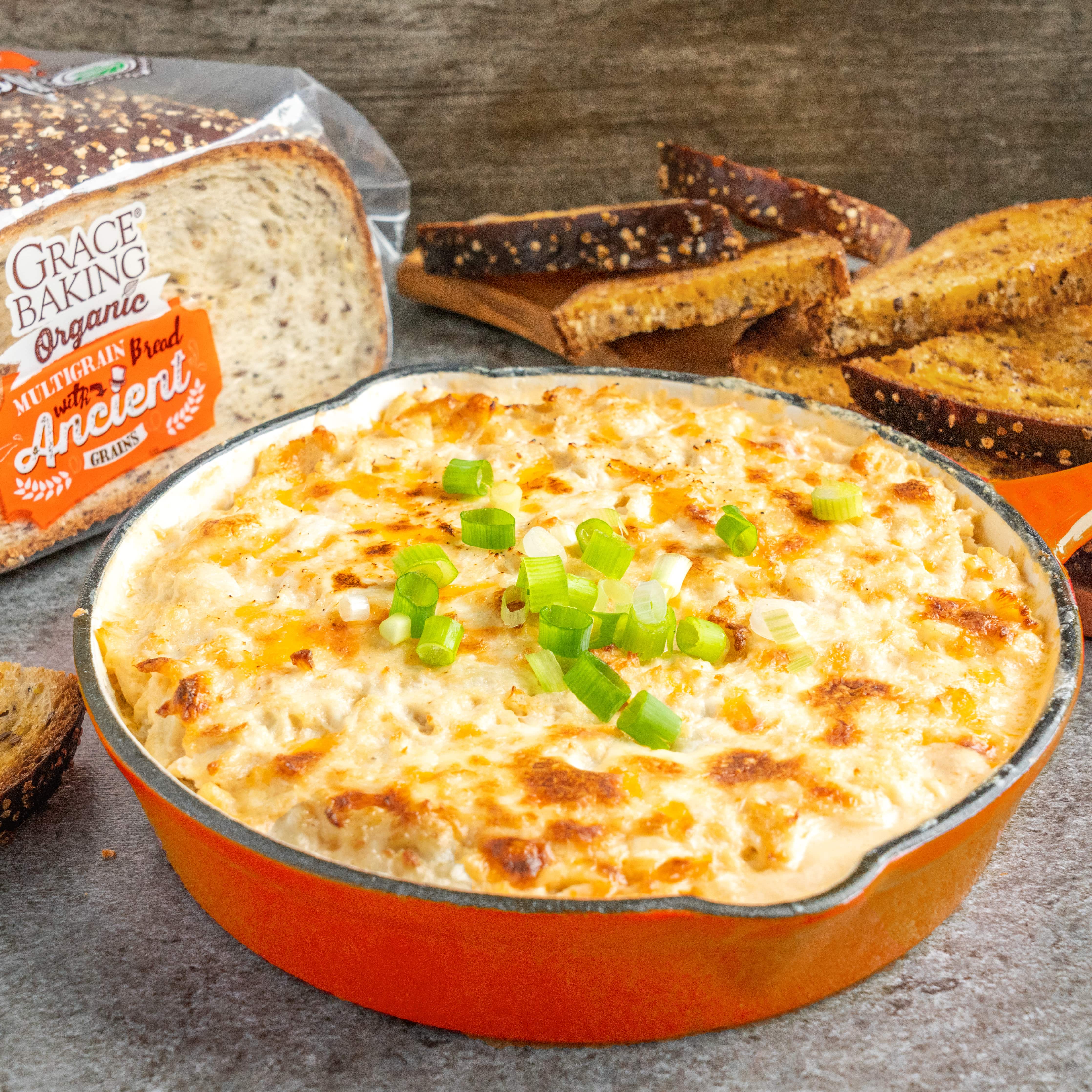 Cheesy Crab Skillet
In 45 minutes you'll go from staring at this picture & drooling to a second helping. This scrumptious crustacean cookery is served atop our Grace Baking Organic Multigrain with Ancient Grains and so literally supports the entire meal, which really does enjoy a big boost from the bread. At first glance you may be tempted to enjoy this creamy, cheesy, melty mouthwatering delight sans bread, but don't: it's magnificent with the multigrain. We were careful not to overpower the subtly delicate flavor of the crab but at the same time ensure enough bite to the bite, and punch to the piquant, thanks to garlic, paprika and Worcestershire skillfully balanced out with the tasteful tang of lemon, sour cream, and mayo.  See, you're drooling already. Believe me, you'll give it up for our Cheesy Crab Skillet.
Ingredients
5 slices Grace® Baking Organic Multigrain with Ancient Grains Bread
½ cup unsalted butter, melted
6 large garlic cloves, minced
1 tsp. Old Bay seasoning
8 oz. cream cheese, softened
¼ cup sour cream
¼ cup mayonnaise
1 cup Cheddar cheese, grated
1 tsp. garlic powder
½ tsp. paprika
1 tbsp. Worcestershire sauce
1 tbsp. lemon juice
½ tsp. salt
¼ tsp. pepper
1 lb. lump crab meat, chopped
¼ cup Parmesan, grated
Directions
Preheat oven to 350˚F. Cut each bread slice into 3 pieces, and place on a large baking sheet.
Combine melted butter and garlic in a small bowl, and brush over bread. Lightly sprinkle with Old Bay seasoning.
Place in oven and bake until bread crisps are golden brown (approximately 7-10 minutes). Set aside.
In a medium bowl, combine cream cheese, sour cream, mayonnaise, Cheddar cheese, garlic powder, paprika, Worcestershire sauce, lemon juice, salt and pepper. Stir together until combined. Fold in lump crab meat.
Spread mixture in a small cast iron skillet, and top with Parmesan. Bake for 20-25 minutes until heated through and bubbly. Serve with bread crisps.