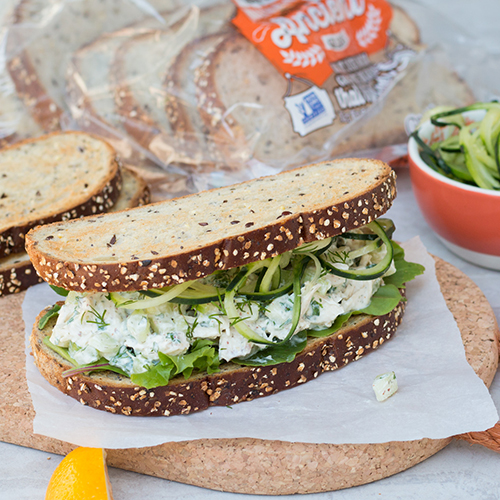 Cucumber Dill Chicken Salad
At Grace Baking we work hard to ensure every loaf, bun & baguette is a work of art, and our Organic Multigrain with Ancient Grains more than qualifies.  It's the perfect way to bookend this absolutely scrumptious blend of chicken, dill, cucumbers and mixed greens.  This dill-ightful creation has an unlimited potential for transforming any summer picnic lunch, evening sunset at the lake dinner, or spur-of-the-moment BBQ into a culinary success story. To see it is to taste it: delicate shades of garden green, creamy chicken salad ivory white, delicate tendrils of dill and the irresistible golden toasty brown of two thick slices of Grace Baking Multigrain Organic Bread with Ancient Grains. All hail the Cucumber Dill Chicken Salad Sandwich.
Ingredients
8 slices Grace® Baking Organic Multigrain with Ancient Grains, toasted
3 cups rotisserie chicken, shredded
½ cup Greek yogurt
1 tbsp. Dijon mustard
1 cup cucumber, diced
¼ cup parsley, chopped
1 tsp. dried dill
2 cups mixed greens
½ cucumber, sliced into ribbons
Directions
In a large mixing bowl, combine chicken, yogurt, mustard, diced cucumber, chopped parsley and dried dill.
Build sandwiches by layering mixed greens on four slices of toasted bread. Top each with chicken salad and cucumber ribbons. Cap each with remaining toast slices, and enjoy.