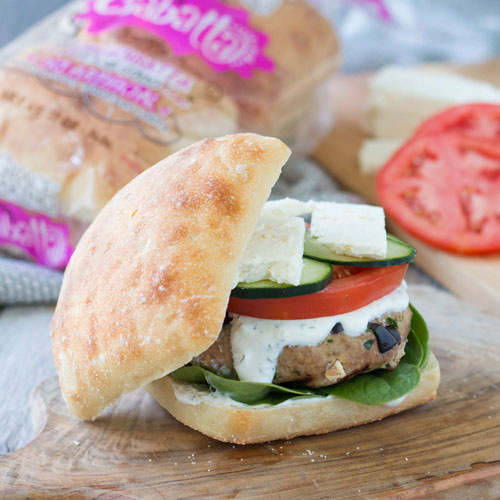 Greek Turkey Burger
Some will swear it's the feta.  Others will argue that only the creamy cucumber dill sauce could make it taste this good, but we're pretty sure that if weren't for our soft, chewy Grace Baking White Ciabatta Rolls that our Greek Turkey Burgers would be... well, turkeys. Lucky our prodigious skills enabled us to transform the ordinary into the extraordinary, mainly thanks to the fact that we make the very best roll around. It's obvious that humility is one our greatest qualities; perfection being the other. Still, we're the first to admit that it may not be one single ingredient that makes the difference between "meh" & "marvelous", but if we had to choose, we'd stick with what we know best. Bread. One bite will prove it. Two may get you hooked.
Ingredients
4 Grace® Baking %product% Rolls 1 lb. lean ground turkey 1 cup spinach, chopped, + more whole leaves for garnishing ¼ cup onion, minced 1 tbsp. fresh dill, minced 1 tsp. dried oregano ¼ cup Kalamata olives, chopped ¼ tsp. garlic powder ½ cup Feta, crumbled 8 oz. Feta, sliced 1 cucumber, sliced 1 tomato, sliced Tzatziki Sauce (recipe follows)
Tzatziki Sauce Ingredients:
1 cup Greek yogurt ½ cup cucumber, finely chopped 2 tbsp. lemon juice 1 tbsp. fresh dill, minced Salt and pepper, to taste
Directions
Heat grill to medium heat. Create burger patties. In a large mixing bowl, combine turkey, chopped spinach, onion, dill, oregano, olives, garlic powder and crumbled Feta. Mix well, shape into four thick patties, and refrigerate until ready to grill.
Make Tzatziki Sauce. In a small mixing bowl, combine Greek yogurt, cucumber, lemon juice, dill, salt and pepper. Mix well, taste, and add more salt and pepper if needed.
Grill burgers until cooked through (approximately 3 minutes per side).
Build burgers by layering spinach, turkey burgers, Tzatziki Sauce, cucumber and tomato slices, sliced Feta and Ciabatta Roll lids.