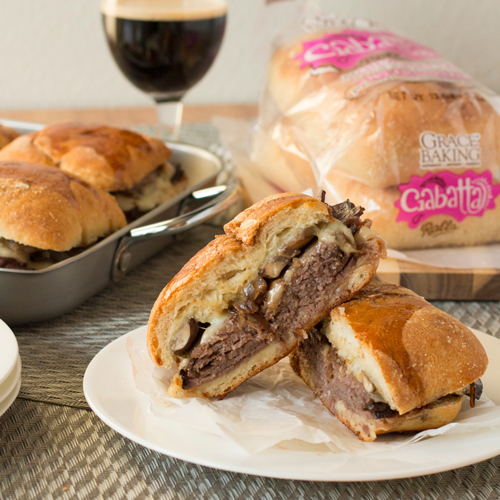 Roast Beef & Stout Sammies
They call traditional English stout "steak in a can".  It's heady stuff, so "they" may have a point.  That said, cooking with stout is always equal measures filling & fulfilling.  So, imagine our surprise and smiles when our bakers decided to drizzle a tempting stout glazing over our already mouthwatering Grace Baking Ciabatta Roll Roast Beef Sammies. In short, their eyes lit up, jaws dropped, and a line-up formed outside our test kitchens.  The contrasts created between succulent roast beef, fresh Provolone, onion and the stout beer glaze defies description! I wonder what our bakers will stumble across next?
Ingredients
4 Grace® Baking %product% Rolls 2 tbsp. butter 8 oz. sliced mushrooms 1 yellow onion, sliced ½ cup stout beer 8 slices Provolone cheese 1 lb. thick-sliced roast beef Stout Glaze (recipe follows)
Stout Glaze:
1 cup stout beer 6 tbsp. butter ¼ cup brown sugar 1 tsp. dried mustard 1 tsp. onion powder 1 tsp. garlic powder
Directions
Preheat oven to 350˚F. Slice ciabatta rolls in half and set aside.
Melt butter in a small skillet over medium heat. Add mushrooms and onion, and sauté until soft. Add stout beer and continue to cook over medium heat until liquid is absorbed (approximately 5 minutes).
Make Stout Glaze. Combine stout beer, butter, brown sugar, dried mustard, onion powder and garlic powder in a small saucepan over low heat. Stir until sugar dissolves. Raise heat to medium and allow mixture to simmer until liquid is reduced to a thick syrup.
Assemble sandwiches. Line bottom of a large baking dish with ciabatta roll bottoms. Layer each with a slice of Provolone, roast beef, a scoop of the onion/mushroom mixture, a second slice of Provolone, and the ciabatta lids. Pour Stout Glaze over each roll. Bake uncovered for 30 minutes.