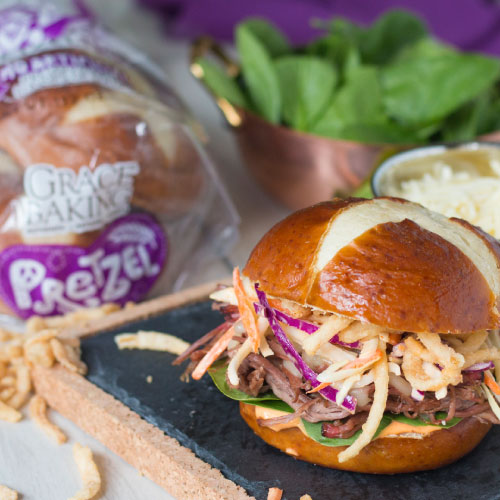 BBQ Brisket Sandwich
We at Grace Baking can tend to be traditionalists, but on occasion we veer off the beaten track and create recipes that surprise even us. Take for example our Grace Baking Pretzel Hamburger Buns – tasty little hamburger buns with a healthy dose of pretzel flavoring and a terrific moist chewiness.  As soon as we baked our very first one we set out to create a taste-bud terrific recipe that would do them justice. Enter the BBQ Brisket Sandwich.  There's never been a better place to stuff a slab of slow-cooked brisket, coleslaw and enough tasty bits of flavor to full a room with satisfied, smile-filled faces. When it comes to sandwiches this one is a real attention-getter. Whip up a few, stick em' out on a ledge to cool and watch the neighbors suddenly discover their long-lost appreciation of your company. It's a deli-cious experience.
Ingredients
4 Grace® Baking %product% 1 lb. beef brisket ½ tsp. salt ½ tsp. pepper 1 tbsp. thyme 1½ tsp. chili powder 1 tbsp. tomato paste 1½ tsp. beef bouillon 1 cup baby spinach ½ cup Gruyère cheese, shredded 1 cup crispy onion straws Chipotle Aioli (recipe follows) Chipotle Coleslaw (recipe follows)
Chipotle Aioli Ingredients:
1 cup Greek yogurt 2 minced garlic cloves 1 tsp. chipotle sauce 
Chipotle Coleslaw Ingredients:
2 carrots, shredded ½ head green cabbage, shredded 1 red onion, thinly sliced 1 tsp. Chipotle Aioli
Directions
Preheat oven to 300˚F. Rub brisket with salt, pepper, thyme and chili powder. Place in a large deep pan and roast for 20 minutes. Combine tomato paste and beef bouillon. Spread on brisket. Cover pan and return to oven, roasting until tender (approximately 3 hours)* Make Chipotle Aioli. In a small bowl, whisk together yogurt, garlic and chipotle sauce. Set aside. Make Chipotle Coleslaw. In a medium bowl, combine carrots, cabbage and red onion. Fold in Chipotle Aioli until ingredients are coated. Set aside. Lightly toast pretzel buns. Build sandwiches by spreading Chipotle Aioli on bun bottoms, then layering baby spinach, brisket, cheese, Chipotle Coleslaw and onion straws. Top with pretzel bun lids, and enjoy.  * Note: If preferred, cook on low for 8-10 hours in a slow cooker.