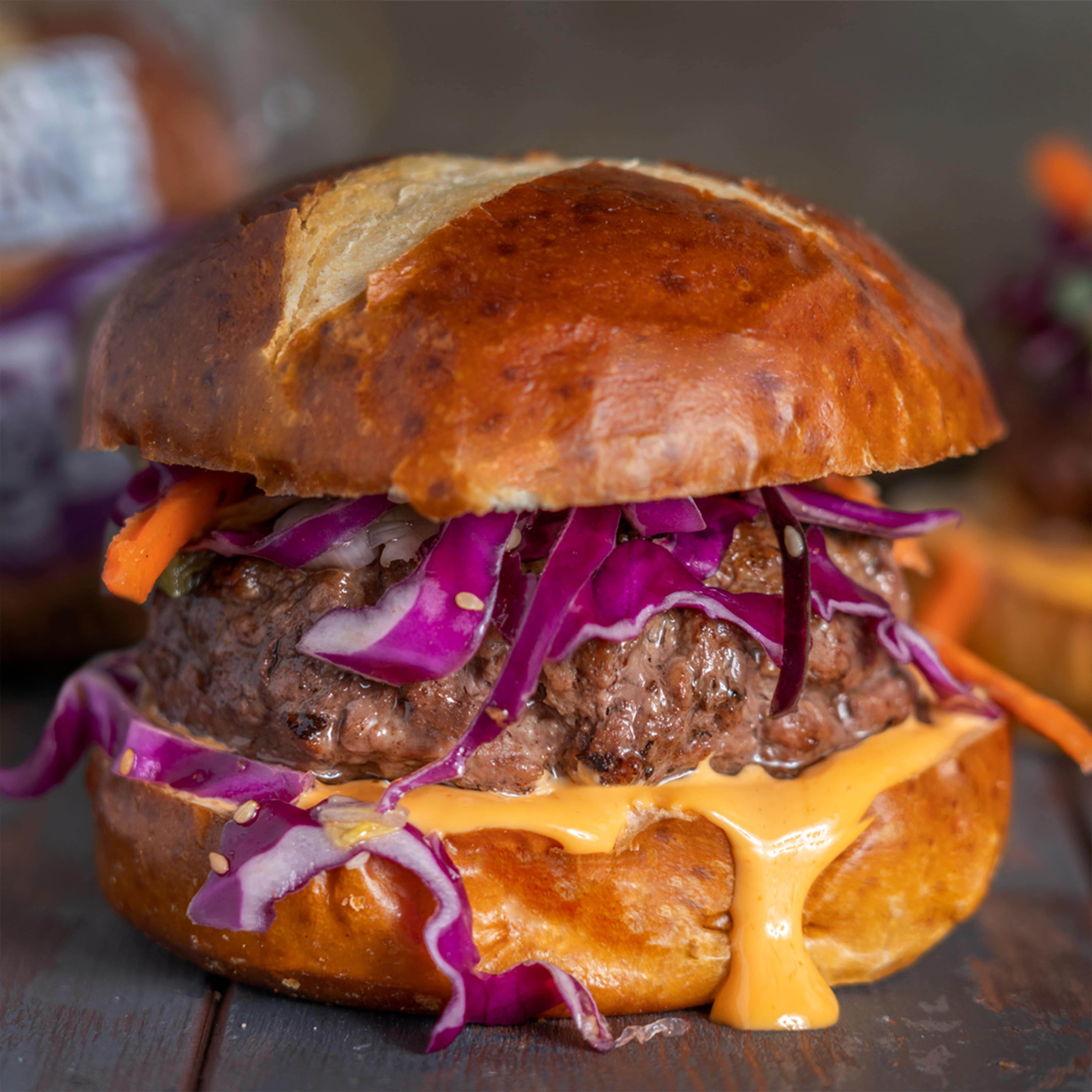 Burger with Kimchi Slaw
The hamburger. An American classic. Which is ironic since this delectable denizen can trace an ancestry to its namesake city, Hamburg. Well, now it's time to fasten your seat belts and prepare for Grace Baking's Korean take on this standard of scrumptiousness: aburger with kimchi slaw. There's probably a better way to taste America - the best from around the world, reimagined, reinvented and served up with originality & confidence. No wonder we got to the moon first. Speaking of which, had those astronauts been toting afew of these along then it might have been "That's one small bite for man, one giant treat for mankind". It all begins with Grace Baking's one-of-a-kind pretzel buns: add a yummy dollop of kimchi, spicy mayo and together it all works as one to the wonder of taste budseverywhere. Fire up the BBQ and chop the cabbage, the summer joyride begins here.
Ingredients
2 Grace® Baking Pretzel Hamburger Buns
2 burger patties
6 scallions, white part only
½ cup kimchi, plus 1 tbsp. juice
2 tbsp. seasoned rice vinegar
1 tbsp. Sriracha
2 tsp. fish sauce
2 tsp. toasted sesame oil
¼ cup vegetable oil
1 small head purple cabbage, sliced
2 cups shredded carrots
Pinch salt
2 tbsp. toasted sesame seeds
2 tbsp. spicy mayo
Directions
Cook burgers to desired doneness and set aside.
Combine scallions, kimchi, kimchi juice, vinegar, Sriracha, fish sauce and sesame oil in a blender and blend until smooth. With the motor running, slowly add vegetable oil and continue blending until smooth.
In a medium bowl, toss purple cabbage and carrots with the kimchi dressing. Sprinkle with salt and toasted sesame seeds. Toss again.
Build burger. Spread spicy mayo on bottom bun. Top with burger, mixed slaw and bun lid.