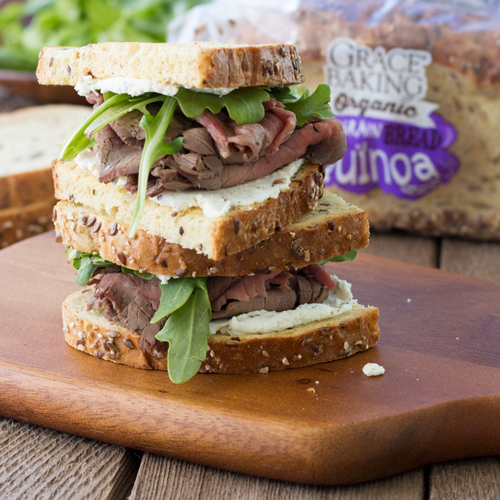 Roast Beef Sandwich With Herbed Goat Cheese & Arugula
"Where's the beef"? In its rightful place; wedged inside two slices of our Organic Multigrain Bread with Quinoa. There's a secret to an ideal roast beef sandwich. Using beef is part of it, but lodging it snuggly & deliciously between two slices of our bread is the key. Undoubtedly you've eaten "roast beef" sandwiches that tasted as if they had neither. Well, that ends here & now. Thank the herbed goat cheese and arugula for extra zing, but thank us for the recipe.
Ingredients
2 slices Grace® Baking Organic Multigrain with Quinoa
4 tbsp. spreadable herbed Goat cheese
6 oz. sliced roast beef
1 cup arugula
Directions
Spread Goat cheese on 1 side of each slice of bread. Layer roast beef and arugula on 1 slice, and top with remaining bread slice.