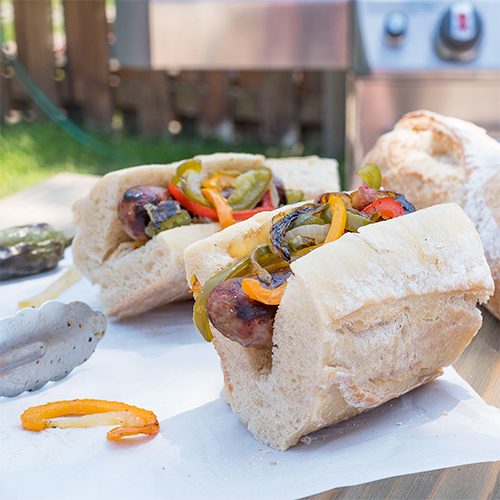 Sausage & Pepper Baguettes
We're tempted to say that the secret ingredients in our Sausage & Pepper Baguettes is the spicy jalapeño, or the dash of olive oil, or perhaps those 3 plump Italian sausages – they're all worthy of praise, but we really think it's all because of the Grace Baking French Baguette. Sure, we're partial, but if you're planning to knock everyone's socks off (except those wearing sandals, socks with sandals are just wrong) for a summer get-together, it's obvious that not just any baguette will do. This is an iconic American favorite that'll fill as many smiles as it does hungry friends and family. Lovely for lunch, sublime for supper, this quite superior twist on the classic hot dog will have you thinking twice before going back to the garden-variety frank & bun.
Ingredients
1 Grace® Baking French Baguette
1 green bell pepper, sliced
1 red bell pepper, sliced,
1 yellow bell pepper, sliced
1 yellow onion, sliced
2 jalapeños, sliced
2 tbsp. olive oil
1 tsp. salt
1 tsp. pepper
3 Italian sausages
Directions
Preheat grill. In a medium bowl, combine bell peppers, onion, jalapeños, olive oil, salt and pepper. Mix until well combined.
Transfer mixture to a large sheet of aluminum foil, and place atop grill. Cook for 10 minutes.
Add sausages to pepper and onion mixture and continue to cook until peppers are tender and sausages are cooked through (approximately 10 minutes).
Cut the baguette into three sections. Slice each section almost entirely in half. Stuff each section with one sausage and scoop of pepper and onion mixture. Enjoy!