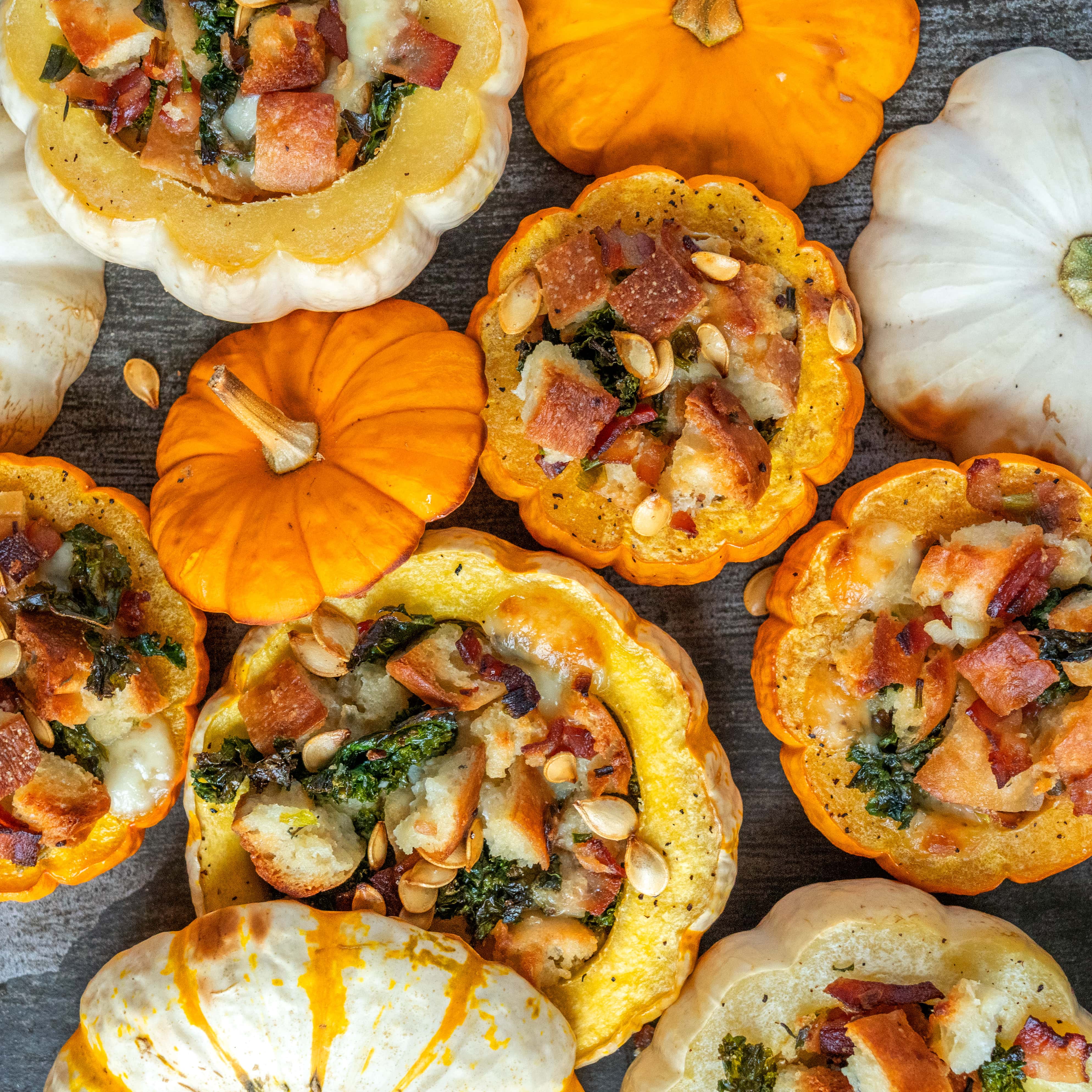 Stuffed Mini Pumpkins
Pumpkins aren't what you'd expect in yet another wow-a-licious Grace Baking recipe. Not that one couldn't carve a yummy Grace Baking Ciabatta Roll into a pumpkin-like shape or serve with melted orange cheddar. This time we've baked up a creative coup the likes of which you never tasted. Unless you have, of course. Expect applause, reverence and appreciation if you whip up a trayful of these cute-as-a-button Stuffed Mini Pumpkins. Prep is a snap, the tough part is resisting the aroma of bacon, fontina cheese, butter, scallions, and garlic slowly baking in a stew of cubed Ciabatta Roll for nearly 2 hours. You'll be tempted to cheat the clock and pull them our early but leave them in for the duration and get the full effect, plus extra applause. This is a treat that requires no tricks... and orange you glad we shared it with you?
Ingredients
2 Grace® Baking White Ciabatta Rolls, cubed
5-6 mini pumpkins
2 tbsp. olive oil
Pinch of salt and pepper
8 oz. Fontina cheese, cubed
6 slices cooked bacon, chopped
1 tbsp. butter
5 scallions, chopped
2 cloves garlic, minced
1½ cups kale
3 tbsp. minced chives
1 tbsp. thyme leaves
½ cup heavy cream
¼ cup roasted pumpkin seeds
Directions
Preheat oven to 400˚F.
Slice the tops off the mini pumpkins and scoop out the seeds. Place pumpkins on a baking sheet. Brush with olive oil and sprinkle with salt and pepper. Roast for 15 minutes or until just tender.
Lower oven temperature to 350˚F. In a medium bowl, combine cubed bread, Fontina and bacon.
Melt butter in a saucepan over medium heat. Add scallions, and cook until soft. Add garlic and kale, and cook until kale is wilted. Transfer to bowl with bread mixture. Add chives, thyme and heavy cream, mixing well so that each bread cube is coated in cream.
Fill mini pumpkins with bread mixture. Cover with foil and bake for 30 minutes. After 30 minutes, remove foil, place lids on top of the pumpkins, and bake another 30-40 minutes, or until tender. Remove from oven, remove lids, and sprinkle with roasted pumpkin seeds before serving.