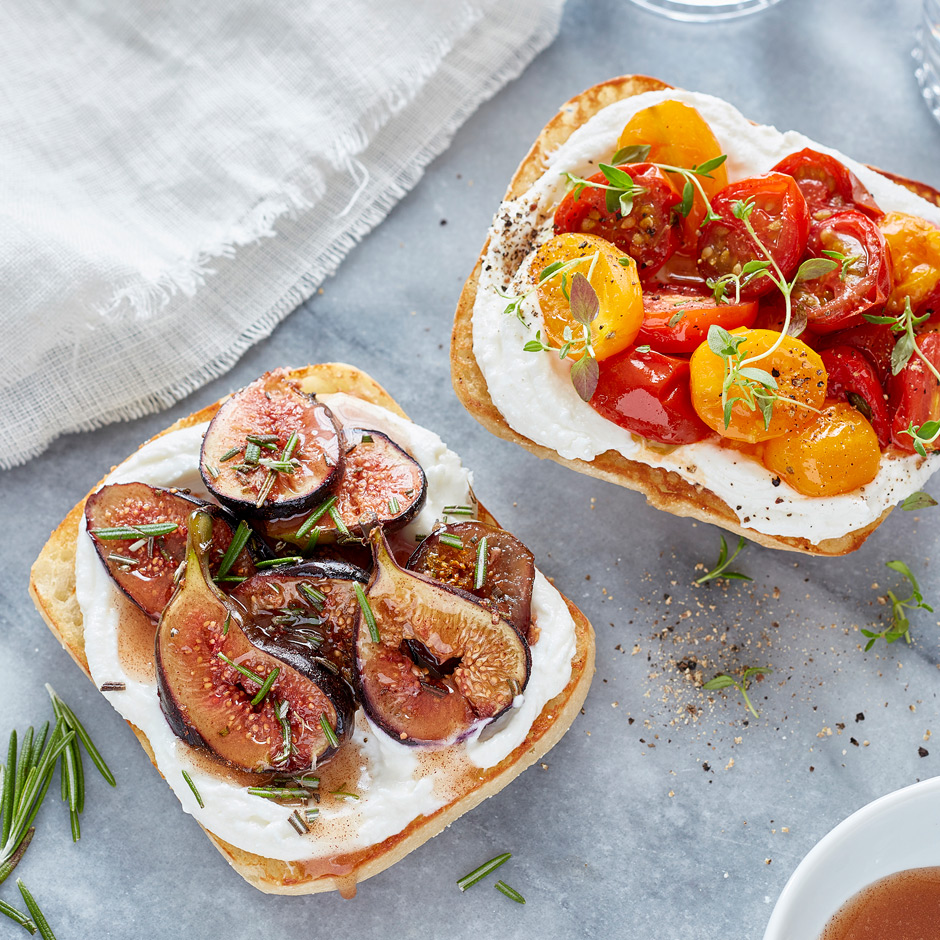 Whipped Feta, Fig and Tomato Open Faced Sandwich
Categories:
Appetizer
Lunch
Vegetarian
Ingredients
2 Grace Baking White Ciabatta buns
1 cup cherry tomatoes, halved
1 tbsp. olive oil
1 tbsp. fresh thyme, chopped plus extra for garnish
1 cup fresh figs, sliced
2 tbsp. honey
¼ tsp. cinnamon
1 tbsp. fresh rosemary, chopped plus extra for garnish
1 cup feta
Salt and pepper
Directions
Pre-heat oven to 400°F and line a baking tray with parchment paper and set aside.
In a small bowl stir together cherry tomatoes, olive oil and thyme. Transfer tomatoes to one half of lined tray.  In another small bowl, stir together honey and cinnamon. Place sliced figs and rosemary onto second half of lined tray and drizzle with 1 tbsp. of cinnamon honey. Roast figs and tomatoes for 10 -15 minutes, until soft and fragrant.
Add feta to a small food processor and pulse until smooth and creamy. Toast ciabatta bun halves.
Evenly spread feta onto to each bun half. Top two halves with tomatoes and garnish with fresh thyme and pepper. Top other bun halves with figs, garnish with fresh rosemary and drizzle with remaining cinnamon honey. Serve warm and enjoy!